Between the stressful post-pandemic scenario, the whole hospital industrialists are working hard in their field day-to-day. Apart from the COVID patients, they also need to attend to other in/outpatients on regular care. Due to the safety precaution instructions, it is not recommended to have a crowded circumstance even in the hospitals.
The digital doctor booking service app provides a fantastic solution to sustain such a situation in real-time. Utilizing the doctor app, the needed people can previously book appointments to visit doctors. By the other characteristics the app holds, many other solutions also provide for the hospital sectors.
In this blog, you can study those innovative in elucidation for further details. If you are looking for the best app development for your hospital management today, the following would be foremost to you.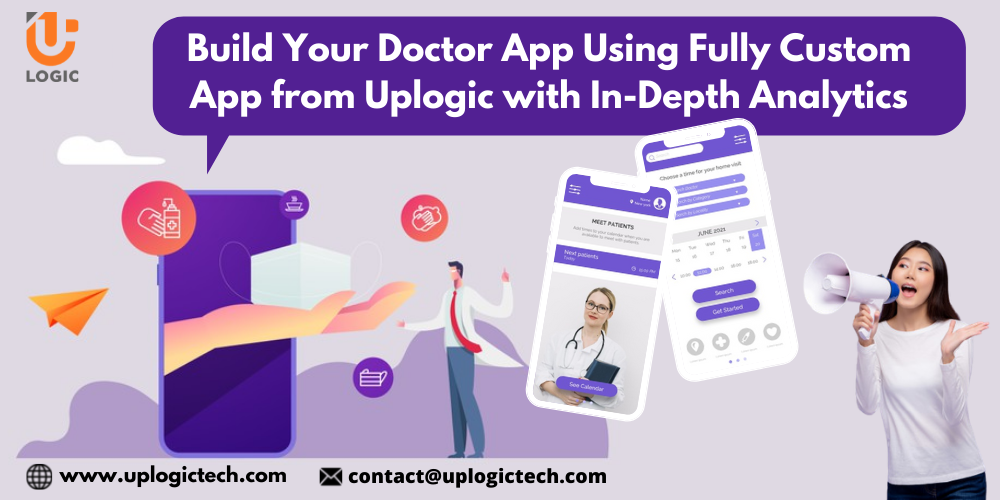 How A Doctor Booking App Provides Digital Solution to the Hospital Industry?
When your doctor app has been built with updated technologies, your customers would experience the comforts of its usage. There are several smart options that will enable your app to make the overall booking flow to be done fastly.
The concerned doctors in your hospital can also visit the patients virtually through the mobile app. This type of feature helps the customers to be connected with the doctors on time in a medical emergency. In several cases, the doctors can virtually interact with people to do first aid for the patients' care.
Having been all the digital approached records saved in a secured cloud-based server online. You can instantly access any of them for future consults to the same patients. Apart from that, you can also update your hospital's other management data to the server for easy access.
Concerned with the condition of the visiting patients, the doctors can prescribe relevant medicines via e-prescriptions. So that the patients can smartly purchase medicines through telemedicine apps to doorway deliveries.
Smart App has All the Comprehend Features
By the inclusion and provision of the above-mentioned required solutions, Uplogic technologies app models have pre-made updates. Through which, your new Doctor booking app will hold the following options. Making use of them, all the needed processes to a digitized patients approach platform will be given.
Easy Patient Registration
As per the people's emergency, they need instant access to the digital entry on your doctor app. The smart update available in your doctor app allows the patients to smartly complete their first registration for app usage. By simply input their name, age, e-mail, and phone number they can instantly access your service.
In-App Communication
If needed to enquire about a patients' current health condition or to guide someone to do precaution methods before a patient reaches your hospital in an emergency, the doctor and the customers can easily interact through in-app communication. Your app is enabled with chat, voice, and video calling.
Quick Accessible Record Sustain
The complete record you maintain through your doctor app will safely sustain the cloud-based service. So, accessing any of the records at any time you need will be too easy for you with an internet connection. The strong framework design and the connection between your admin app and the service pass data in seconds while you search for it.
Telemedicine App
If you have a separate interface to your medical store inside your clinic, you can interlink it with your doctor app. When you give e-prescriptions to the patients, they can smartly contact your store to order them online.
Together with these inbuilt features, you can completely design your new app by using our fully custom option on app development. Comprehensive details are as follows.
Develop Your Doctor App with Fully Custom Solution and Experts' Analytics from Uplogic Technologies
As we are in the field of mobile app development and create many apps for various industries, we have many clients all over the world. Based on our expertise particularly in making hospital industry apps, you could receive your completed doctor app with additional add-ons. They are as mentioned in the following bullets.
Inspiring App Model – As we have already developed a doctor apps model for your option for selection, you will get all the inspiring features in it to the existing demands raised by the other doctor apps users in the market.
Powerful Tech-stack – The react-native / the native framework used for your new app development by Uplogic technologies strengthens your doctor app for usage. The tech stack offers very easy processes in every action that happens through your doctor app.
Client Satisfied Service – As an owner of the doctor app, the interactions on the app development on such features, UI and UX designs, etc. for your satisfied output welcome by Uplogic ever in the process. By means, you can modify your app with your own business plans and analytics too.
Experts Analytics – Contingent on to the experience of our experts, your app possesses features that deeply analyze the current requirements. Further, you can also get any additional tech info related to your app creation to our technical team. It helps you to decide whichever additional modifications are needed for your new app.
Final Say
As mentioned in the study, your doctor booking app from Uplogic technologies' reduced your stress in your overall hospital management process. By the virtual connection to the required patients on time, you can give your life-saving services without direct contact.
Having booked previously for your direct visit to the patient in an emergency, you can easily avoid the crowd in your hospital building. To get even more business to consult for immediate app creation, send your plan detail to [email protected]