Many apps on the market make people's lives easier, more accessible, and better. Smartphone users have a tendency to download all of the apps that they require. However, as beneficial as the smartphone is to the user, certain obstacles prevent one from taking advantage of the market's full range of services. It is a storage space limitation for mobile phones.
As a result, people are looking for a more limited, on-demand multi-services app. The introduction of super apps is the solution to this problem. Super apps are those that incorporate multiple services into a single application. There are numerous excellent apps on the market, such as Uber Clone, UberEats Clone presented by Uplogic a leading Multi-services mobile app company.
In this blog, we can go through a deep analysis of how Uplogic helps in providing multi-services with a mobile app to improve the On-demand service industries.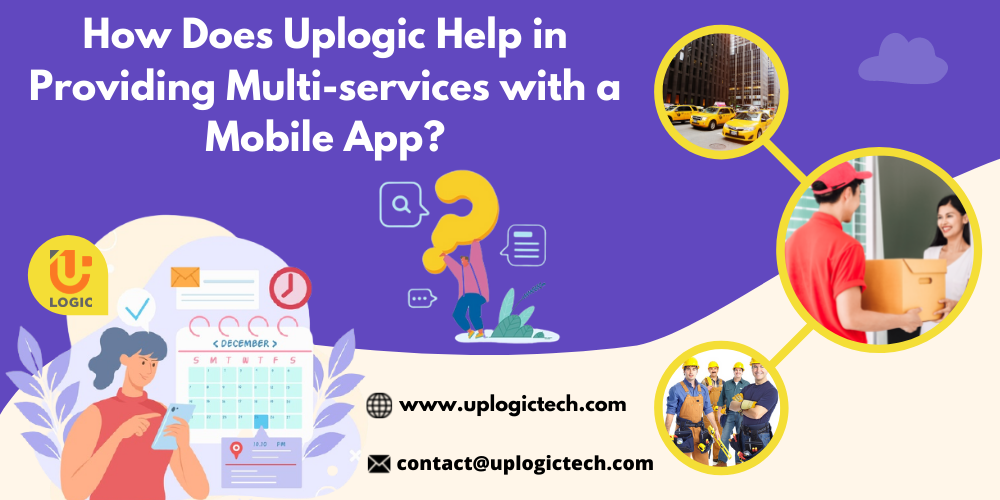 What Are All the Features That Are Included in Uplogic's Multi-service App?
The Uplogic Multi-service app combines several services on a single platform. This app includes the following services:
Taxi Scheduling Service On-demand services
On-Demand Parcel and Courier Delivery
On-Demand Retail Delivery System (like Food ordering and delivery, Grocery shopping and delivery, Pharmacy goods purchase and delivery, etc.)
Appointment Booking Solution or On-Demand Service Provider Hiring
As a result, this holistic app practically guarantees that your customer can hire a massage therapist, send a courier or parcel, or even buy food online. In addition, with a few taps on the phone, you can book taxis and other services.
How Uplogic Provides Multiple Services Through a Single Mobile App?
Every business nowadays conducts its daily operations through a mobile application. The business revolution is already underway. Businesses are creating their own custom on-demand application to help them run their operations.
Previously, businesses that provided more than one service had to invest in each app development separately. However, with the advanced Multi-service app provided by Uplogic, businesses can now provide a variety of services using the same application. This is less expensive and takes less time.
With this one app, you can provide more than 52 different services at the same time, ranging from taxi booking to doctor consultation. These applications are in high demand.
On-Demand Business that can be run with Uplogic's Multi-service application,
Taxi Business: With this application, you can start your own ride-hailing business. With a single application provided by Uplogic, you can now provide taxi rides, car rentals, motor rentals, and bus rentals. Your own customized app will be available on the App Store and Google Play.
Delivery Service: One of the most well-known and demanding industries. Deliveries are now available to your business clients and customers. With just one application, you can provide any service, from food delivery to courier delivery.
Additional Professional Services: Every business you can think of, from doctor to carpenter, car wash to a plumber, can be integrated into your own Uplogic multi-service app. This mobile application includes an admin panel and an advanced tracking system to assist you in effectively managing all aspects of your business.
How Do Uplogic's Multi-service Apps Add Value to Your Business?
Promoting Growth: The greater the characteristics, the more productivity growth. More customers and thus more profit are derived from the high number of features. A multi-service app is a way to attract more users to our market.
It is the key to attract more users to provide all-in-one solutions. Uplogic Multi-service apps offer easy and quick operation so most people are chosen to improve their reach and growth by analyzing the needs and requirements of our customers and providing an appropriate solution.
More Ways to Interact with Current Customers: The Uplogic Multi-service app aids in the retention of existing customers by allowing them to turn to this app for any type of requirement.
When everything a user needs is available in a single app, why burden the user with the burden of searching for new apps and registering to use them? It fosters a stronger connection with customers by providing more features and becoming more dependable.
Increasing the Number of Investors: As the market grows, more investors will want to invest in your Multi-service app, and many will want to partner with you to help your app gain popularity. Because the Uplogic Multi-service app is such a large platform, partnering with it will help the small-scale business gain recognition. As a result, many investors are expected to contact a super app.
Increased Revenue: Customers are increasingly signing up for the Multi-service app to take advantage of one or more services. Many people use this app because it is a one-stop-shop and all services can be accessed with a single login. This increases the company's revenue.
Conclusion:
Hope you have got the knowledge of the operations of the Multi-services app in various on-demand platforms. This All-in-One application concept is very popular in all countries. If you intend to or are already providing a wide range of services, it is recommended that you invest in such Multi-services mobile app development.
Uplogic is the leading Multi-services app company, and many other leading apps are following in their footsteps to achieve the same level of success. Investing in Uplogic's Multi-services app now will exceed Uber's revenue because multi-services apps are more popular than other apps.