The development of technologies today comprises everything smartly into a mobile phone. Many services, connection to the customer, product selling, customer booking, etc. could happen instantly through the digitized platforms.
Several industries have their own business apps to establish their business to the advancement of the current generation. Also, a number of new entrepreneurs start their startup careers with mobile-based app platform services online today.
Right from the delivery model services, to the ride-hailing bookings, there are many different industries in the on-demand marketplace to choose for your specific business service online. Create your required business models app with Uplogic simply within days.
Let's see the influential app model provisions of Uplogic to execute your business plan to the market quickly as well as effectively. Find the grand strategies of us to smartly uplift your business in the technically updated industry markets.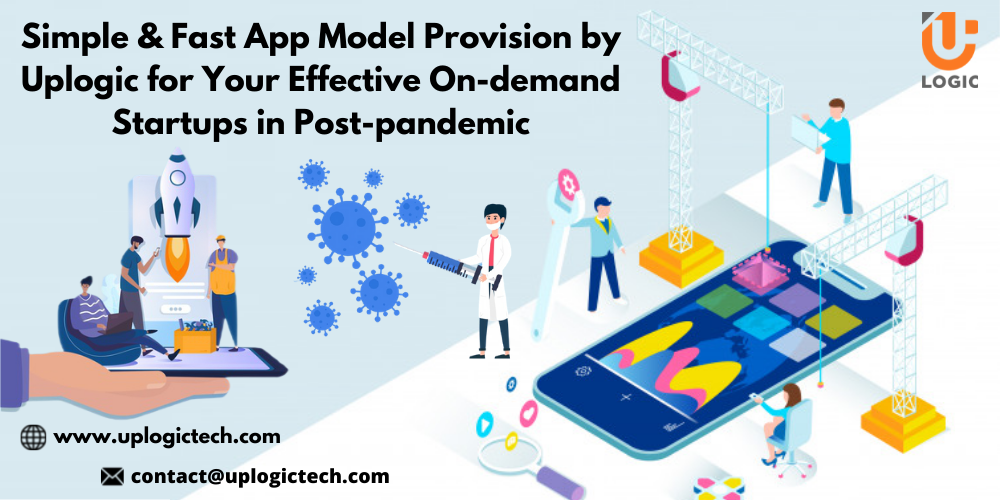 How Fits Uplogic App Models to the Latest Generation Marketplace?
Due to the competitions raised in various fields and sectors, your new apps from the Uplogic team would be covered with demand competing solutions. You can get all the advanced characteristics inbuilt with your business apps to smoothly develop your service among customers nowadays.
While you establish your service to other regions, the customer-centric modulations needed for your service to promptly increase the customers' value. In the means to offer such features with your business app, Uplogic provides the greatest features from multi-lingual to multi-currency payment mode.
In such a period like the post-pandemic scenario now we face, your complete app design build-in into a user-friendly access model. It encourages new users to easily use your apps for their prospective service aspects in real-time. That feel-free way of usage attracts them frequently to use your business apps in the future.
Simple & Fast On-demand App Design from Uplogic for Your Effective Online Business Startup:
Considering the rapid growth of new business launchings in the on-demand service platform in various sectors, if you launch your business app as soon as possible in time, that assists you to smartly escalate your customers' value for the future. In the following, you could find how Uplogic creates your app that fast.
Using the pre-made apps from Uplogic for your new app development. you could complete your entire business app with powerful design completions so fast. It will help you to launch your service online immediately after your complete business plans are done to the initiation.
Different business models required different interfaces. Based on your own startup needs you can create your business service apps with vital app panel interfaces. If you need your panel design as a software-based model that is too possible to make up with Uplogic.
As per your on-demand business selection, your entirely developed app has superior options that hold all the trendy features available currently in the relevant field. It makes your business app in the marketplace much more familiar for the usage of users.
The 360-degree complete technical support from our expert team always guides you for any other technical improvements for your business app in the future. You can also make your business app additionally updated with new characters anytime with Uplogic.
Along with these benefits, your own online business apps apply powerful strategies of Uplogic to motivate your business growth at the very beginning of the launch. The details are as follows.
Top Strategies of Uplogic Apply to Your Business App Creation
With the specific below-mentioned strategies used by Uplogic on your app-building process, your business apps get additional boosts to quickly develop in the marketplace. By these specifications, you can smartly see the productivity enhancement in real-time with your selected business model.
Native App Design
Design apps for your specific business purposes with an updated app model. Fill all your requirements with secured data transferring within your particular apps/software to the cloud-based server. Opt with perfect native design to use panel interfaces into one way of your own individual business orients.
Modernized Solution
Use Uplogic's Uber/UberEats clone app scripts to possess the modernized solutions to your new business apps for enhanced services. Make any additional changes to the design as per your own complete business plans.
In demand UI & UX
Have attractive UI and UX design for your new apps from updated clone apps available with Uplogic. Out white label model provision allows you to completely change the UI and UX as per your business preferences.
Deep Analysis
By being in the app development field for years and developed a more broad range of business apps for various industries, our team always sustains all our ready-made apps with updated solutions. It could be even more enhanced with your own business analysis too.
Client Based Services
Utilizing our client-based app development service, you can make your new app addition unique to other competitors in your selected online market area. That will always make your new startup service apps stay out of others.
By following these winning strategies, your existing or startup service business on the digitized platform will be the most successful in your career subsequently.
Over to You
Utilize Uplogic's entire app model strategies to your own business app development. Escalate your business to the next level of marketing success digitally. Design your new startup business apps that finely coordinated with up-to-date framework updations. To contact our technical experts for further discussion, feel comfortable sending your business idea to [email protected].