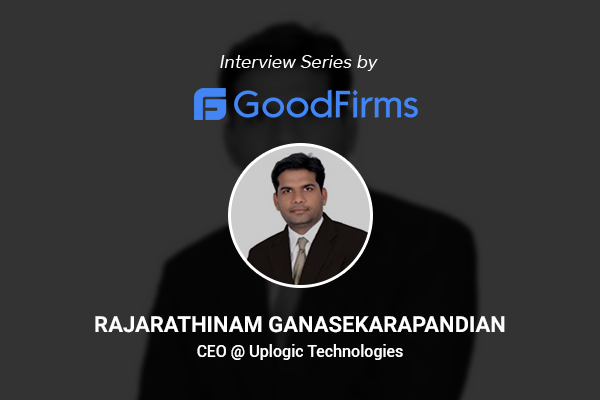 Uplogic Technologies, founded in 2017, is a Web and IT, and Mobile App outsourcing company that services globally. With its development center in India and business centers in the United States and UAE, the firm presents a unique offshoring opportunity for businesses around the world to collaborate with them. The CEO of the firm, Rajarathinam Ganasekarapandian, is a technocrat with more than 10 years of concrete experience in the industry.
Rajarathinam had a very clear vision to cater to the businesses looking for solutions for trends such as on-demand app services. His firm is a customer-centric company working with utmost transparency in an environment of inclusion. They believe in keeping the client in the loop with consistent updates regarding the proceedings within the project. Their business and technical teams also thrive to enhance overall customer satisfaction, even post-deployment.
To better understand their approach and the clarity of their CEO's vision, GoodFirms interviewed Rajarathinam Ganasekarapandian as part of their interview series. Please read through the following excerpt from the extended conversation.
Mobile Apps Catering to the On-Demand Industry:
They are an in-house development team, said Rajarathinam, explaining that they build app products right from scratch using a bottom-up approach. Leveraging the efforts of an in-house team from design to deployment ensures that the best efforts are put in to produce a completely loaded app solution. Discussing the industry they focus on serving, he shared that they cater mainly to the on-demand delivery and taxi booking industry.
Going into the specifics of the actual development process, the CEO expounded that timeframe is an aspect that depends on the degree of customization and addition of features requested. Their seasoned team of developers completes a project in a week while also offering comprehensive post-sales assistance. Their solutions are delivered in advanced technologies such as Objective C, Laravel, PHP, MongoDB, Swift, and Ruby on Rails.

Abdullah AL Shaibani is a repeat collaborator with Uplogic Technology who shared his experience with the firm handing them out a 5-star rating on GoodFirms.
Uplogic Technologies is recognized as a best mobile app development company in Florida at GoodFirms as a direct result of their competency in this domain.
Scalable and Innovative Web Development Services:
When asked about what are the key factors that come under the lens while determining the cost of a mobile app, Rajarathinam elucidated that the Business scope, Features included, Coding structure, Technologies and Resources involved are the key drivers. They have delivered more than 570 web projects globally. Their team aims to deliver secure and scalable innovative web solutions developed using cutting edge tech.
Continued efforts by Uplogic Technologies in this field and their disposition towards developing future-ready solutions will ensure that the firm soon ranks among the coveted records of the top web development companies at GoodFirms.
Their preferred technologies, shared the CEO, include PHP, ASP.net, Angular.js, Node.js, and Laravel. Platform selection is majorly based on client preference, timeframe for release, remunerative features, user demographics, and region of operation. They always look to translate technology to find a way to monetize quickly with little investment in physical assets: their turnkey solutions, SpotnRides and SpotnEats, target on-demand taxi booking and food ordering industry. 
Please read the comprehensive interview of Rajarathinam Ganasekarapandian at GoodFirms to know more about the insights divulged by the CEO.
About GoodFirms
Washington, D.C. based GoodFirms is a maverick B2B Research and Reviews Company that helps service-seekers in finding Mobile App Development and Web Development companies that are rendering the best services in the industry. GoodFirms' bonafide research process ranks companies, boosts their online reputation and helps businesses choose the right technology partner that meets their requirements.
About the Author

Anna Stark is presently working as a Content Writer with GoodFirms – Washington D.C. based B2B Research Company, which bridges the gap between service seekers and service providers. Anna's current role lingers her to shape every company's performance and critical attributes into words. She firmly believes in the magic of words and equips new strategies that work, always in with ideas, something new to carve, and something original to decorate the firm's identity.