Online healthcare app assists many people to book doctors smartly from their sitting area. The convenient platform of different service providers is now broadly established with many customers all around the world. Thus, many new entrepreneurs are registering their places in the same field focusing on its rapid growth in the market.
Building a healthcare mobile app for such hospitalized online services is now too simple for you with Uplogic Technologies. In this blog, we are going to discuss how our company develops business apps for healthcare services in advance, and what are the tech stacks used by us to make your healthcare app to be ahead in the online service markets.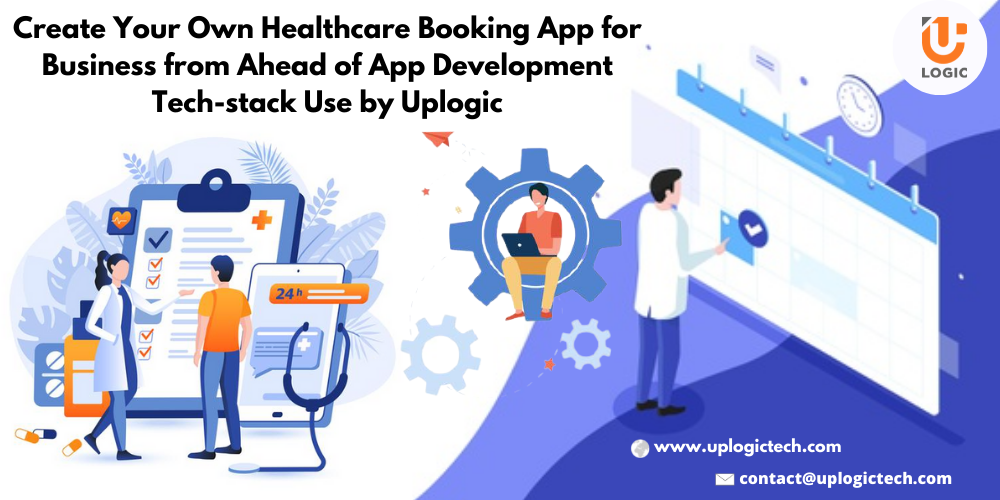 Critical Sources Use by Uplogic in Health Care App Development
Right from the old traditional way of hospital appointment bookings, to the manual patient record maintenance takes its vast time to the physicians. It creates delays in patient handing on hospitals. But, through your healthcare doctor booking app platform, the concerned doctors can directly go to the patients' location and heal them accordingly.
The important sources used by our company to provide your own online healthcare app platform to the market are listed below.
Secured App Interfaces
Your complete app interfaces have secure design formation. In the mean of collecting data from the patients and doctors should be kept safely while business, your doctor booking apps have an end-to-end encryption formula. So, transferring data in between your business apps always be secured.
E-Record Maintenance
As well, the connection between your business app and your cloud-based data service online also has the same encryption technique. The sensitive data like patients' names, ages, payment card details, and medical histories would be stored in that cloud database in an entirely encrypted format. So, there would be no way for third-party access/stealing in real-time.
Advanced Appointment Booking
The patients can book their appointments in advance using your business app online. It makes them easily get their medical concerns for their convenience. Utilizing the on/off toggle that is available in the doctor app, the physicians also accept or reject any booking requests regarding their availability.
Admin Establishment
If you find an assistant to manage your online business, you can provide him a secondary admin access permission for proceeding. Through that, you can do multi-tasks from your side as well as doing this business.
Along with these incredible, our company includes additional options to make your new app stay out of others in the same market area. The details are as follows.
How Uplogic Makes Your New App Stay Out from Competitions?
Uplogic is always being updated with the very latest technologies in healthcare app development services. Due to our company developing business apps for various marketplaces and business purposes, our experts are always assured with what are the trends going on in respective fields.
In your doctor booking app development, we include the following source to make your new service even special in the healthcare booking industry.
Fully Branded App Creation
Our whole service provisions would design your new business app fully branded to the market. As all the advanced technology inclusions covered in your new doctor booking app, you can also make any additional changes regarding your business plan/analytic thoughts.
Scalable Digitized Platform
You can develop your new business app with multiple interfaces as per your business needs. For e.g. if you want to tie up with hospital management and concern their particular doctors with their own patients, you can make any additional interfaces to the management.
Fastened Performances
Your complete app interfaces are strongly developed with an effective framework design so that the in-app notification transfers happen in seconds. It assists the respective doctors to instantly respond to the patients while they book appointments through your business app.
Smoothes Important Management System
Considering the overall workflow of your online service startup held through digitized mobile apps, Uplogic develops your admin app with a dedicated admin panel. Through this, you can get all your business details like development analytics, transaction history, service performances, etc. It smoothes your whole management system to be easier for handling.
With coping with these all, our company uses an ahead tech-stack formation on your healthcare app development. The details could be found below.
Ahead App Development Tech-stack Use by Uplogic for Your Healthcare App
Considering the advanced solutions increasing in mobile app-based booking services online, your healthcare doctor booking app also possesses an enhanced tech stack design. Uplogic uses the ahead app formation in your new healthcare doctor booking app for your great service startup in real-time. They are
Multi Operating System Support
Your app from Uplogic could be designed to support both Android and iOS operating systems. So, the users with various mobile phone OS types can easily install your healthcare doctor booking app for service access.
Excellent UI and UX Design
Your new healthcare app from our company has its default eye-catchy UI and UX design. Its fully custom structure allows you to make any changes to it. You can make complete color correction, outlook modulation, etc. based on your wish.
Auto Backend Programs
The auto backend program built into your new doctor booking app automatically reminds doctors if their time comes to consult a pre-booked patient at a scheduled time. So, they can go to the patient on time without any omissions.
React Native Solution
Our company's native app development process completes your entire business app within days. It assists your dreamy business to be launched online shortly for its huge business success in the doctor booking service online in the future.
Inclusion of mentioned effective sources inbuilt with your new healthcare doctor booking app, your new business startup gets developed in its user value shortly.
In Conclusion
The high in-demand in healthcare doctor visits hardest the workflow of physicians actually. With the assistance of your on-demand doctor booking app, it could be easy for the patients to consult doctors smartly. When you build your own doctor booking app from Uplogic for such business service provision online, you get all the enhanced solutions as mentioned in the blog.
To contact our technical team for immediate discussion, send your info to [email protected].